Franchise Evaluator™:
Waxxpot Group Franchise
---
Franchise overview of the Waxxpot franchise opportunity based on 14 internal and external factors.
Franchise at a Glance
---
Founder: Daniel Sadd, CEO
Year Founded: 2020
The Waxxpot® concept traces its roots to 2003, when founder, Daniel Sadd, created Salon Lofts, LLC to provide salon suite rental to independent beauty entrepreneurs so they could run their own beauty businesses in their own space. His vision led to uncompromising standards in training Waxxpot® Specialists with specialized industry knowledge to perform hair removal services to our standards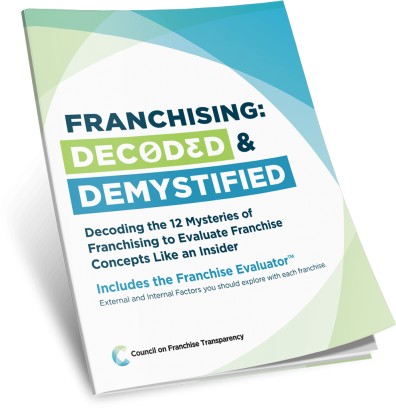 Investment Range
---
Market Data
Percentage of customers new to waxing
Financial Performance Representation
Does this franchisor make an earnings claim?
(Item 19 from FDD)
Locations
Company | Franchise
(15 locations in development)
Royalty
Greater of the Minimum Royalty Fee
($100/week),or 6% of Net Sales each week.
Ongoing Fees
General Advertising Fund
(Net Sales each week)
Seven External Factors of the Franchise Evaluator™
---
Scoring Scale: 1 = Lowest 10 = Highest
Market Size
Waxxpot serves a fairly broad market with personal waxing services for both men and women. 40% of Waxxpot customers are new to waxing so growth potential is meaningful
8
Industry Trend
Waxxpot serves a relatively well served but still growing segment of the personal care/personal services space occupied by both franchised and independent salons.
6
Product and Service Drivers
Waxxpot products and services are similar in nature to salon services where a licensed or trained professional expertly complete the procedures. Most people can use these services. Waxxpot also performs tinting (for brows and lashes) as well as lash lifting services making it a one stop shop for selfcare services
6
Real Estate Needs
Waxxpot salons are location based and prime locations are needed. The location must be built to specifications and guidelines provided by the franchisor and must meet all local building codes.
4
Competitive Climate
Waxxpot is a differentiated brand in the waxing and personal services category and competes with both franchised and independent waxing services enterprises. The significant number of "new to waxing" customers means the market segment is still growing.
6
Regulatory Climate
Waxxpot operates in a regulated category and locations and technicians must meet health and safety requirements at the state and local level that vary from state to state.
4
Brand Recognition
Waxxpot is a fairly new concept and is categorized as an emerging brant. The brand name and logo may not be as recognizable outside current trade areas.
3
Seven Internal Factors of the Franchise Evaluator™
---
Scoring Scale: 1 = Lowest 10 = Highest
Revenue Model
Simple model with good margins. Not alot of investment in inventory so shrinkage does not become a factor. There are multiple income streams including a subscription/membership model
8
Franchisee Role
The franchisee role is to manage and grow the business, not perform the service. There is typically a store manager that would manage the team. Waxxpot can also be classified as a very desirable semi-absentee franchise model which would not require the franchisee owner to be present 100% of the time
8
Franchising Experience
Led by CEO, David Sadd who had developed and grown the Salon Lofts franchise concept to over 200 locations, David has brought together a deep team of franchise industry experts at leadership positions throughout the company
10
Leadership
David Sadd's franchising experience is well documented. He has assembled an A team of franchise executives with a singular focus on replicating the Salon Lofts success with Waxxpot
9
Franchisee Engagement
Waxxpot currently has five franchisee groups in addition to eleven corporate locations. These early adopter franchisees tend to be very engaged in the growth of their locations and the brand as a whole. There are fifteen additional franchise locations under development.
6
Financial Health
Backed by investors and the strength of the corporate locations, Waxxpot is well funded and poised for growth
9
Operational Systems
Waxxpot has well defined and proven operational systems with dedicated training and support team.
8
Total Franchise Evaluator™ Score
---
0 - 24
Missing fundamental, internal or external factors
25 - 49
More investigation is needed
50 - 74
Worth exploring further with caution
75 - 99
Add to consideration set
100 - 140
Sound opportunity and likely a great fit
Summary
---
Waxxpot is well positioned in the marketplace for personal services and based on our evaluation criteria for External Factors there may be some headwinds to overcome in the local markets, but not insurmountable. 
The newness of the franchised company as a whole is offest by the decades of experience and demonstrated success in franchising by their CEO and leadership team. This concept is "Likely and Good Opportunity" based on our evaluation criteria. 
We encourage you to use our evaluation matrix and see if your conclusions match with ours.
Source: Waxxpot Group Franchise, LLC Franchise Disclosure Document (FDD) 2022. 
This document and the franchise sales information on this site do not constitute an offer to sell a franchise. The offer of a franchise can be made only through the delivery of an FDD. Certain states require that we register the FDD in those states. The communications on this website are not directed by us to the residents of any of those states. Moreover, we will not offer or sell franchises in those states until we have registered the franchise (or obtained an applicable exemption from registration) and delivered the FDD to the prospective franchisee in compliance with applicable law.
This information is not intended as an offer to sell, or the solicitation of an offer to buy, a franchise. It is for information purposes only. There are approximately 14 countries and 15 US states that regulate the offer and sale of franchises. The countries are Australia, Brazil, Belgium, Canada (provinces of Alberta and Ontario), China, France, Indonesia, Italy, Japan, Malaysia, Mexico, Russia, South Korea, Spain, and the United States of America. The US states are California, Hawaii, Illinois, Indiana, Maryland, Michigan, Minnesota, New York, North Dakota, Oregon, Rhode Island, South Dakota, Virginia, Washington, and Wisconsin. If you are a resident of one of these states or countries, are receiving this message in one of these states or countries, or intend to operate a franchise in any of these states or countries, we will not offer you a franchise unless and until we have complied with any applicable pre-sale registration and/or disclosure requirements in the applicable jurisdiction. Currently, Waxxpot Group Franchise, LLC, Inc. is registered to sell franchises in all states that require registration in the United States. This website is not directed to the residents of any particular states.
This offering is not an offering of a franchise. In New York (USA), an offering of a franchise can only be made by a prospectus that has been previously filed and registered with the Department of Law of the State of New York. The application for registration of an offering prospectus or the acceptance and filing thereof by the Department of Law as required by the New York law does not constitute approval of the offering or the sale of such franchise by the Department of Law or the attorney general of New York.
OUR WEBSITE HAS NOT BEEN REVIEWED OR APPROVED BY THE CALIFORNIA DEPARTMENT OF BUSINESS OVERSIGHT. ANY COMPLAINTS CONCERNING THE CONTENT OF THIS WEBSITE MAY BE DIRECTED TO THE CALIFORNIA DEPARTMENT OF BUSINESS OVERSIGHT AT www.dbo.ca.gov.