Franchising: Decoded & Demystified is your comprehensive guide into the vast world of franchising! Download Today!
Download our free e-book: Franchising: Decoded & Demystified
In Franchising: Decoded & Demystified You'll Learn: Critical aspects of franchise concepts you're not examining right now, Why franchise rankings really do not help you at all, and many other important points.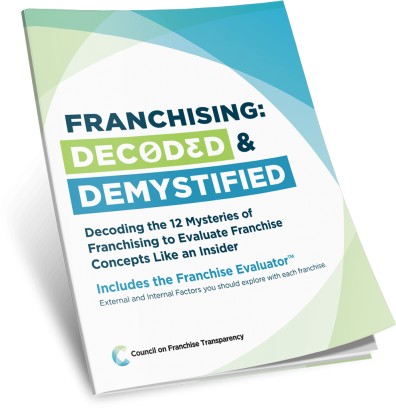 12 Mysteries of Franchising
Decode the 12 Mysteries of Franchising to Evaluate Franchise Concepts Like an Insider
Learn valuable insights
Learn valuable insights that will help you understand franchising inside and out.
Franchise Evaluator
Includes the Franchise Evaluator: 14 Internal and External factors you need to be examining on EVERY concept.
Download your free E-book
Franchising: Decoded and Demystified
---
Get insider information about what you need to know about franchising. Includes the Franchise EvaluatorTM
What's in a Franchise Disclosure Document and why it's important. Why it's not
The realities of customer acquisition
Some concepts grow with velocity. Learn their attributes and spot the stars
Do unicorns and semi-absentee franchises actually exist?
Yeah, but, will it work here?? How to know if your market is right for that concept
And much more!
Get Your Free Franchise Evaluation
Are you exploring several franchises in several categories and don't know where to start or how to make sense of it?
Request a free franchise evaluation and our team will help you understand the franchise as a business based on our proprietary Evaluation Method!