Evaluate franchise concepts from an
insider's perspective.
With thousands of concepts to choose from, you have one shot at getting it right.
We evaluate franchised concepts on 14 internal and external factors giving you an insider's perspective you can't get anywhere else.
See our latest franchise opportunity evaluation based on 14 internal and external factors!
We know what you're trying to do.
---
Build a business to replace or supplement a career without upending everything you've built to date. The good news is it's possible and building a business through franchising is a way to do it. The bad news is you're going have to examine franchise concepts differently than you are currently. To discern the most profitable franchise for you, you'll need a new set of instructions.
Franchising:
Decoded & Demystified
That's why we put together this site and our free 64-page guide: Franchising: Decoded & Demystified. FD&D is a collection of feedback from dozens of active franchisors, hundreds of active franchisees and several national studies organized into an easy to follow guide that let's you evaluate franchising and franchise concepts with an insider's perspective. With one important distinction. We are not beholden to any one brand, advertiser or special interest. Your needs alone are who this guide was developed for. We aim to have the information in Franchising: Decoded & Demystified be as straightforward and uncompromised as possible.
We believe in franchising.
And believe a strong, healthy franchise industry is a strategic imperative.
The Council on Franchise Transparency is a revolving all-volunteer board of franchisors, franchisees, and allied parties in the franchise industry who provide objective, experienced-based information on the nature of franchising.
About the Council
Download our FREE E-book Franchising: Decoded & Demystified
---
Decode the 12 Mysteries of Franchising to Evaluate Franchise Concepts Like an Insider
Learn valuable insights that will help you understand franchising inside and out
Includes the 'Franchise Evaluator': 14 Internal and External factors you need to be examining on EVERY concept.
Download e-Book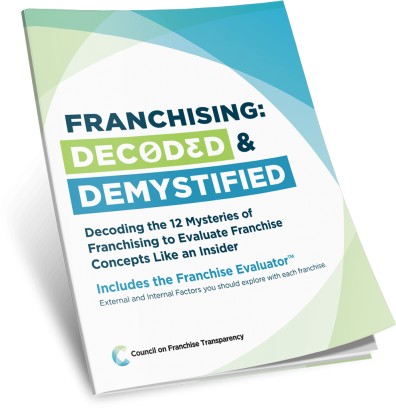 Franchise Industry QuickFacts
---
Active Franchise Concepts in North America
Franchisor Headquarters Locations
U.S. – 3,300
Canada – 733
Top % U.S. States with most Franchise Headquarters
California – 512
Florida – 382
Texas – 253
Georgia – 165
New York – 141
Primary Franchise Industries
Service-Based – 2,270
Foodservice – 1283
Retail – 337
Lodging – 116
Conglomerate – 27
Reviews of Franchising: Decoded & Demystified
---
Denver, Colorado
This is my first foray into business ownership. Franchising Decoded really helped give me a perspective on aspects I never considered.
New York, New York
There's so much information on franchises all over the internet it's hard to know where to start. This ebook was the first resource we found to give a complete understanding of what to look for...and look out for!
Minneapolis, MN
Do not get into a franchise until you read this guide. It saved me from making big mistakes.
Houston, TX
Franchising makes sense for me, but there is no standard franchise set up. All of them operate very differently from each other. I needed to figure out what worked for me and a way to separate fact from 'sales hype' This guide went a long way to helping me have well prepared conversations with franchisors.
Phoenix, AZ
Getting into my own business is the next step for me. And franchising makes sense. But all of it is so new and a little overwhelming. Franchising Decoded helped clear some of the fog. We're also working with the CFT to evaluate concepts we're gravitating towards.
Richmond, VA
I was a small business owner looking for my next move. Franchising seemed to make sense, but being spoiled for choice makes the process complex. FD&D really helped narrow down options to concepts that worked for me and my objectives.
Hollywood, FL
Do yourself a favor and arm yourself with the objective information in FD&D before you make that first call to a franchise concept.
Ready for Free Professional Franchise Consultation?
You're trying to make a decision for your future and your family, and you have one shot to get it right.
It seems like everyone knows the franchise rules, except you!
Get free, professional guidance with a franchise expert in YOUR corner.