Evaluate franchise concepts from an
insider's perspective.
With thousands of concepts to choose from, you have one shot at getting it right.
Use our method to evaluate franchise concepts on 14 internal and external factors for a truly buyer-centric perspective.
We know what you're trying to do.
---
Build a business to replace or supplement a career without upending everything you've built to date. The good news is it's possible and building a business through franchising is a way to do it. The bad news is you're going have to examine franchise concepts differently than you are currently. To discern the most profitable franchise for you, you'll need a new set of instructions.
That's why we put together the resources on this site and our free 64-page e-book: Franchising: Decoded & Demystified
Access a Wealth of free Buyer-Centric Franchise Resources.
Introducing The Franchise EvaluatorTM
---
Discover the most rigorous franchise opportunity evaluation methodology available.
Understand the 14 external and internal factors you should be exploring on every concept.
Get a 360⁰ view into little known, yet important, concept aspects.
Score and rank concepts on their total score, or just factors important to you.
Have more productive franchisor conversations.
Learn More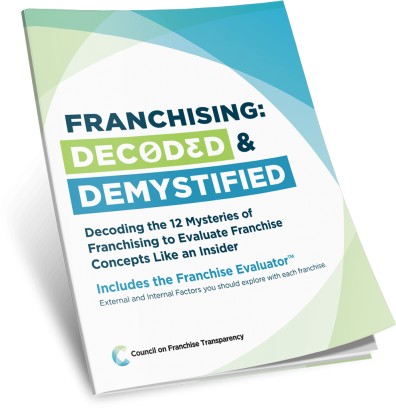 Free e-book | Franchising: Decoded and Demystified
An indispensable tool for evaluating franchise concepts with a buyer-centric perspective.
---
FD&D is your real-world field guide from dozens of active franchisors, hundreds of active franchisees and several national studies organized into an easy to follow guide offering you an insider's perspective when exploring franchising and franchise opportunities. With one important distinction. We are not beholden to any one brand, advertiser or special interest. Your needs alone are who this guide was developed for.
Decode the 12 Mysteries of Franchising to Evaluate Franchise Concepts Like an Insider
Learn valuable insights that will help you understand franchising inside and out
Includes the 'Franchise Evaluator': 14 Internal and External factors you need to be examining on EVERY concept.
Download Free e-Book
Reviews of Franchising: Decoded & Demystified
---
Denver, Colorado
This is my first foray into business ownership. Franchising Decoded really helped give me a perspective on aspects I never considered.
New York, New York
There's so much information on franchises all over the internet it's hard to know where to start. This ebook was the first resource we found to give a complete understanding of what to look for...and look out for!
Minneapolis, MN
Do not get into a franchise until you read this guide. It saved me from making big mistakes.
Houston, TX
Franchising makes sense for me, but there is no standard franchise set up. All of them operate very differently from each other. I needed to figure out what worked for me and a way to separate fact from 'sales hype' This guide went a long way to helping me have well prepared conversations with franchisors.
Phoenix, AZ
Getting into my own business is the next step for me. And franchising makes sense. But all of it is so new and a little overwhelming. Franchising Decoded helped clear some of the fog. We're also working with the CFT to evaluate concepts we're gravitating towards.
Richmond, VA
I was a small business owner looking for my next move. Franchising seemed to make sense, but being spoiled for choice makes the process complex. FD&D really helped narrow down options to concepts that worked for me and my objectives.
Hollywood, FL
Do yourself a favor and arm yourself with the objective information in FD&D before you make that first call to a franchise concept.
Get Your Free Franchise Evaluation
Are you exploring several franchises in several categories and don't know where to start or how to make sense of it?
Request a free franchise evaluation and our team will help you understand the franchise as a business based on our proprietary Evaluation Method!