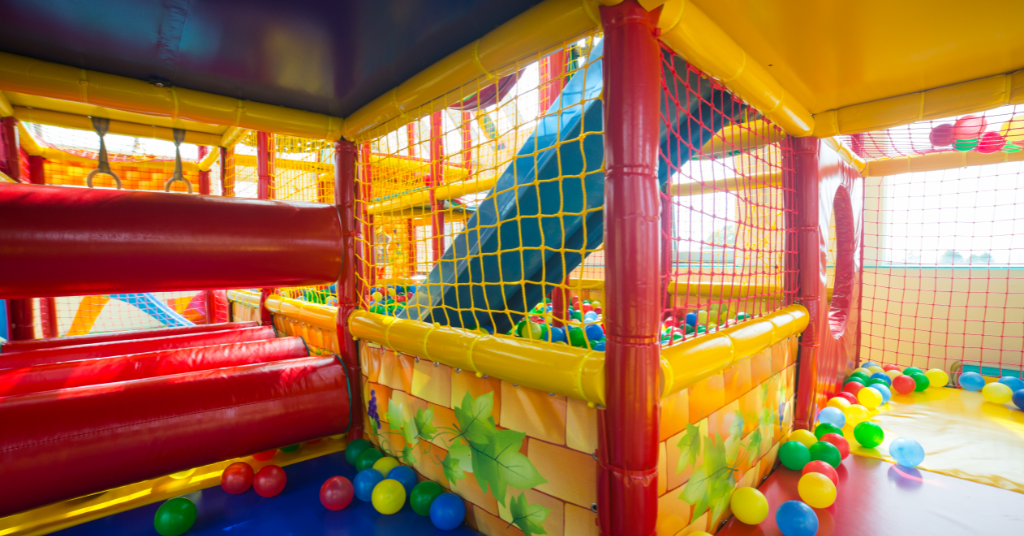 Are you looking for a fun and rewarding business opportunity? An indoor playground franchise could be the perfect fit for you! Not only does it provide endless entertainment to kids, but it also offers an attractive financial opportunity.
Franchising is a great way to fuel your entrepreneur spirit. In this article, I'll explain what an indoor franchise is, how it costs to start, how much money you can make, and where to get started.
Let's get to it!
What is an Indoor Playground Franchise?
An indoor playground franchise is a great business opportunity for entrepreneurs looking to get into the entertainment industry. It provides an indoor recreation center that offers fun, safe and interactive play experiences for children of all ages.
Indoor playground franchises are growing in popularity due to the convenience they offer parents by providing indoor activities for their kids on rainy days or during cold winter months.
Additionally, indoor playgrounds provide a stress-free environment where families can bond together over active and creative playtime. With so many advantages, it's no wonder why indoor playground franchises are becoming increasingly popular across the country!
How Much Money Do Indoor Playground Franchise Owners Make?
Franchise owners have the chance to make a lot of money, depending on their personal investment and hard work. But just how much money can indoor playground franchise owners make?
Indoor playgrounds can profit anywhere from $1k to $25k per month. Studies show that indoor playground franchises average a gross income of $300,000. Plus, indoor playgrounds are relatively easy to run, with minimal staffing requirements and affordable start-up costs. So if you're looking for a new business venture, an indoor playground franchise could be the perfect choice!
Of course, indoor playground franchise owners will still need to make a strategic business plan and have enough financial resources to get started. But with the right amount of planning and perseverance, owners can reap tremendous rewards for their efforts.
What are the Different Types of Indoor Playground Franchises?
Indoor playground franchises come in a variety of different shapes and sizes, providing families with fun, educational and often exciting options for indoor play.
Soft Play Center
One type of indoor playground franchise is the indoor soft play center. These indoor playground franchises usually offer a variety of play equipment for various age groups, such as ball pits, slides, and climbing structures. In addition to this, indoor soft play centers often provide additional services like birthday parties, lessons and activities by trained staff members.
Trampoline Park
These indoor playground franchises provide indoor trampoline courts, foam pits and obstacle courses, giving children a chance to bounce and play around in an indoor setting. Indoor trampoline parks typically have additional activities such as laser tag, arcades and mini-golf courses.
Water Play Centers
Water play centers usually offer large indoor swimming pools, splash pads and water slides, allowing children to cool off in a safe and fun environment. Most indoor water play centers offer additional services such as lifeguard training classes or birthday party packages.
What are the Benefits of an Indoor Playground Franchise?
Indoor playground franchises come with many benefits that make them ideal investments for entrepreneurs who are looking to start their own business.
Safe
Offer your customers a safe and healthy environment to explore and have fun in any weather. Plus, indoor playgrounds are often more affordable than traditional amusement parks or family-oriented attractions. This makes them an attractive option for parents and children who are looking for a fun and affordable indoor entertainment option.
Affordable
Indoor playground franchises offer minimal start-up costs. Unlike many businesses, indoor playgrounds don't require expensive equipment or complex infrastructure. With the right business model, indoor playground franchises can be up and running with minimal investment. If you don't have a ton of startup capital, this could be the right franchise for you.
Opportunity for Growth
Indoor playground franchises offer plenty of opportunity for growth. With indoor playgrounds, you can add new attractions and activities over time in order to attract more customers. This can be a great way to continually expand your business and make it even more profitable.
Strong Support Systems
These franchises often have strong support networks. Many indoor playground franchise operators offer customer service, marketing and operational support to new owners. This can be incredibly helpful for entrepreneurs who are just getting their feet wet in the business world.
If you're looking for a fun and rewarding business opportunity, an indoor playground franchise may be the perfect fit for you.
Indoor Playground Franchise Startup Costs & Annual Expenses
The cost to start an indoor playground franchise will vary depending on factors like the size of the space and the type of equipment desired. The larger space and more complex equipment, the higher your costs will be.
In addition to the physical startup costs, you'll have to be prepared to pay other expenses like legal fess, insurance premiums, and licensing fess.
Once you've started you're indoor playground franchise, you'll have to pay a few ongoing expenses. Indoor playground franchise annual costs consist of maintaining and cleaning equipment, replacing parts as needed, employee wages, and marketing initiatives such as advertising and promotions.
Knowing what you'll need to invest upfront and on an ongoing basis will help ensure that you make the most out of your investment.
Tips to Start a Indoor Playground Franchise
Here are some important tips to consider when starting an indoor playground franchise.
1. Research the indoor playground industry – Before you jump into setting up an indoor playground franchise, it's essential to first understand all aspects of the indoor playground industry. This includes things like market trends and consumer preferences, as well as competition in your area.
2. Choose a location – Location is key when it comes to setting up an indoor playground franchise. You'll want to choose a spot that has plenty of foot traffic, as well as one that is easy to access from major roads and highways. Additionally, think about the potential customer base in the area and make sure there is enough demand for your playground franchise.
3. Secure financing – Before you can open an indoor playground franchise, you'll need to secure finances to cover startup costs like rent, equipment purchases, and employee wages. Consider all of your options when it comes to financing, including taking out a loan or investment from a partner.
4. Choose indoor playground equipment – This includes things like slides, trampolines, foam pits, and more. Make sure the indoor play equipment is safe and appropriate for all ages, as well as being fun and entertaining.
5. Hire the right people – Employees will be working with children so customer service is a key factor. New hires should be reliable, trustworthy, and experienced in indoor play arenas.
6. Market your indoor playground franchise – Once your indoor playground is up and running, you'll need to market it so that people know about it. Use online resources like social media and website platforms, as well as local marketing efforts such as flyers and word of mouth.
8. Evaluate performance – Evaluate the performance of your playground franchise on an ongoing basis. Monitor things like customer feedback, sales figures, and promotional success. Regularly evaluating the performance of your indoor playground franchise can help you make improvements.
Following these tips can help ensure a successful indoor playground franchise that will provide fun for kids and profits for you!
Finding the Right Franchise For You
Most people think of Chick fil-a, McDonalds, and other major chains, when they start looking at franchises. However most people pivot from their initial strategy once they learn of all opportunities available in franchising.
If you aren't 100% sure of which franchise is right for you, book a call with one of our franchise coaches. Our franchise coaches use their hands on experience to present you franchise opportunities that best align with your skills and life goals.